I Would Rather Have The Lord Than My Legs
An exceptional story of a young man who had life as he knew it cut off in its prime when critically injured in an horrific accident, how he struggled to come to terms with spending life as an invalid in a wheelchair, and an astonishing recollection of when the Holy Spirit visited in such a wave of heat that his fire alarm wondrously went off and then mysteriously refused to stop.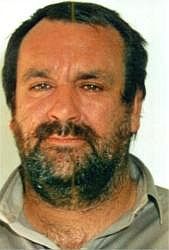 Ken Fish's story begins in 1973 when he was an active 20 year-old tree surgeon fulfilling the needs of the arboricultural environment. In those pre health-and-safety days there was no official requirement to use a safety harness, so in its absence any slip of hand or foot could have calamitous consequences.

This is precisely what happened. Fifty feet up a tree disaster struck. Ken lost his footing. He rocketed earthward at a rate of knots. Head-first he plunged into the rock-hard pavement below.

Rushed to hospital the surgeons operated on his battered brain and body but it was touch and go as to whether he would even survive. Against all odds his tenacious spirit and zest for life brought him through the horrendous ordeal.

He won his fight for life, but was now forced to face the future without the use of his legs, legs that had so loved climbing trees. At a twist of life's cruel fate he had become tetraplegic.

In attempting to escape from the restricting chains of his newly limited existence it was hardly surprising that Ken sought solace in drink and cigarettes.

But it was while living at St Giles, a home for younger handicapped people that used to be in Lancing, Ken met a particular group of visitors who became life-long friends, visitors from the United Reformed Church in Shaftesbury Avenue, Goring which they attended at that time.

When in 1976 they heard about a healing meeting coming up at Eastbourne run by Peter Scothen, they felt they just had to go. On a very bad November night tipping with rain they drove there with others from the URC.

At the religious gathering Peter prayed earnestly for Ken to receive the Holy Spirit. But nothing appeared to happen. Others, however, were converted and became Christians that night. And after a very worthwhile evening the group made their way back home.

Not until the following evening did a thoroughly fascinating event take place. Ken went to bed as usual and reflected on the effects of the healing meeting and prayed to God: "What's this all about?"

Suddenly a wave of hot air rushed over him. "Like you get when you open a hot oven." And he was enveloped by an intense heat of expectant excitement.

So powerful was this surge of fieriness that the sensor outside his room set the fire alarms off.

With all the fire bells in the entire home ringing Ken started praying in tongues, something he'd never done nor indeed never heard before. "I wondered what it was."

But that wasn't the end of the incident. The fire brigade arrived and having established there was no actual fire tried to turn off the alarms. Under normal circumstances that wouldn't have been a problem. They tried everything but the danger-signals refused to stop ringing, until, in desperation, they decided to disconnect Ken's sensor.

The incessantly reverberating fire-alarm-bells finally fell silent. The alert was now over.

Experienced staff as well as professional firemen had been totally powerless against the potential of the Holy Spirit.

This divine intervention of the Holy Spirit had a profound effect on Ken's Life. He stopped drinking and smoking immediately. His battle against the devil's demons of alcohol and nicotine had been won. "I used to drink 20 pints a day and smoke 40 cigarettes a day."

But over the years he drifted and started drinking again. "A bottle of Scotch a week and a few pints of ale." He finally gave up in 1989 when he was baptised in the sea off Goring. "I'm now teetotal."

Ken came to rely on and praise God permanently. "Life without Jesus would be unbearable." He'd done amazingly well since being cut off in his prime as a young man at the beginning of his professional life, and had finally come to terms with his disability.

For the rest of his life Ken's devotion to the Saviour was to be openly demonstrative of a man with a mission, a converted inspiration to others, for throughout all his remaining years so many people were to be touched by this kindly gentle man.

Ironically, if he'd never had the accident he wouldn't have become a Christian, but he's so glad that he did. Given the choice of having a relationship with Jesus in a wheelchair or being fully abled but without Jesus, there was no contest. "I would rather have the Lord than my legs!"

Within days of this story being written Ken went into hospital for a routine operation and while recovering there passed away unexpectedly.

Sad as it may be for those who were close to him, it is a joyous time for them too, for now that he is in heaven he has indeed got both the Lord and his legs -- forever.

And Ken would be as pleased as Punch to know that here on Earth his tremendous testimony has been recorded for perpetuity as a shining example to others afflicted by disability, disability of any degree, never to give up but to seek God.

Ken Fish



The following tribute by fellow wheelchair user Rosemary Kitto was read out at a celebration of Ken's life in NewLifeChurch on 8 August 2008.



MEMORIES OF KEN

I met Ken in 1976 when moving to St Giles (in Lancing, now demolished), a home for younger physically handicapped people. My first memory of him is shooting out of the front doors, throwing himself into his car and driving off with a flourish. He was an angry young man in those early days.

Little wonder, he was only twenty when he broke his neck falling out off a tree while at work. He was the first to laugh about his antics when looking back.

He had, and always kept, a wicked sense of humour and used to keep everyone laughing, even his poor unsuspecting victims as he played his next practical joke.

Two examples of 'life with Ken' spring to mind. The first was the many nights he used to take himself to the pub for the evening and then wheel himself home in his manual wheelchair using the white line in the middle of the road to guide him.

The local police car usually followed to make sure he arrived in one piece. They did warn him that they might prosecute him for being drunk in charge of a wheelchair, but of course never did.

The second incident was typical of his sense of fun. Another lad, Davy Miles, a great friend of Ken's and a dear Christian, had just grown one hair on his chest and he was so proud of it. On a hot summer day he was stripped to the waist so everyone would admire this amazing growth.

Ken got a huge pair of scissors from the sewing area and nodded to his partner in crime, and said "You catch him and I'll cut".

Well Davy took off like a rocket with all the other youngsters cheering him on, laughing until they cried and warning him where his would-be assailants were hiding.

Needless to say Davy escaped intact, but a lot of fun was had by all. There are so many stories and life was never dull. He taught me to drive my little blue car, the ones with three wheels, and nearly killed us both in the process.

Not too long after I met Ken he gave his life to the Lord and that event triggered the start of something wonderful. Pat Butler worked at St Giles and her husband Ray came round all the time: he was really our unofficial pastor.

Under Ray's leadership, we had our first 'Come Praise' (a praise and worship meeting involving many of the local churches), to celebrate Ken's new life in Christ, it was packed. From that the 'St Giles Christian Fellowship' was formed and people were saved, born again, baptised in water and baptised in the spirit.

It was a truly wonderful time and all the local, and some not quite so local, churches were involved. All the priests, ministers and pastors loved coming to be that week's speaker. Not only were we blessed but those coming from the churches were as well.

We saw the Lord at work in a wonderful way, which leads me to probably the best story of all. Ken had hands laid on him to receive 'the baptism of the Holy Spirit' and he didn't receive it all at once.

The Holy Spirit fell on him in power a couple of nights later, during the night, unbeknown to the rest of us. The fire alarm went off at that exact time and yes, it was the alarm right outside his room that lit up on the panel.

The fire brigade, of course, came but could not find anything wrong. Ken was completely oblivious to all this and that night every time Ken started to praise, the fire alarm went off again.

In the end, the firemen had to dissemble it. We all got up the next day very bleary eyed and it wasn't until we spoke to Ken that we found out what had transpired.

Two postscripts to this story are, firstly, the next day when the alarm was tested it was of course found to be fine and to my knowledge never rang again.

Secondly this story was told to many and resulted in a clergyman receiving the Holy Spirit as well.

There are a number of us who have been friends ever since those early days and can bear testimony to these and many other wonderful events at St Giles.

When Ken first left there he had some really hard knocks and like so many of us, had his time in the wilderness. Many faithful saints prayed for him during that time and he came through somewhat battered but probably ultimately stronger.

I can't recall at what stage in his Christian walk he was baptised in water, but in usual Ken style, he embraced the event with great enthusiasm. He was baptised in the sea while he was a member at Goring United Reformed Church, by means of four or more men carrying him on a stretcher into the water.

He loved the day and told me later, because the sea was so choppy, he had been baptised four times before he was baptised.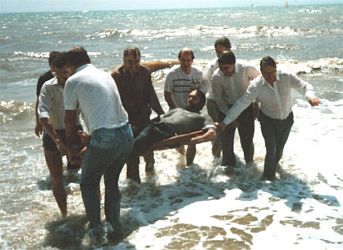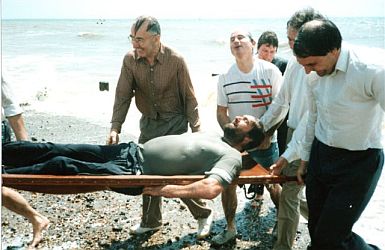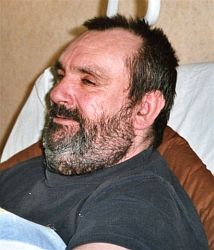 CAPTION: Tetraplegic Ken Fish being brought out of the sea, following his Baptism
Ken continued to grow as a Christian, he had lots of friends and was a great influence and role model to many. He became a member at New Life Church at Durrington and was very happy here.

In latter years his health started to fail and his back caused him a lot of pain. Ken never grumbled or complained, he would say he wasn't surprised his back had packed up when he considered how he used to throw himself around.

To the onlooker, it was sad to see him lose his strength, having to start using an electric wheelchair and spend so much time in bed. He however, used these quieter times to immerse himself in The Word and prayer. He loved reading the Bible and would get quite excited by a new revelation or an answered prayer.

In 2006 Ken and eight others met for lunch in the Coffee Shop at New Life Church to celebrate thirty years of friendship and from that event we began to meet again once a month at Ken's to study Revelation guided by Ray Butler's expertise. We had done this back in the 70's and it was lovely to be together again.

Over the years I saw in Ken such a work of grace. He displayed love, joy, peace, patience, kindness, goodness, faithfulness, gentleness and self control - sound familiar?

I believe with all of my heart, the words will be heard in heaven, "Well done good and faithful servant". He was a much loved brother in Christ, a much loved friend and I shall miss him.

Rosemary Kitto